Data driven, customer-centric real estate
Unify your portfolio data and deploy solutions that truly impact profitability, sustainability, and customer satisfaction.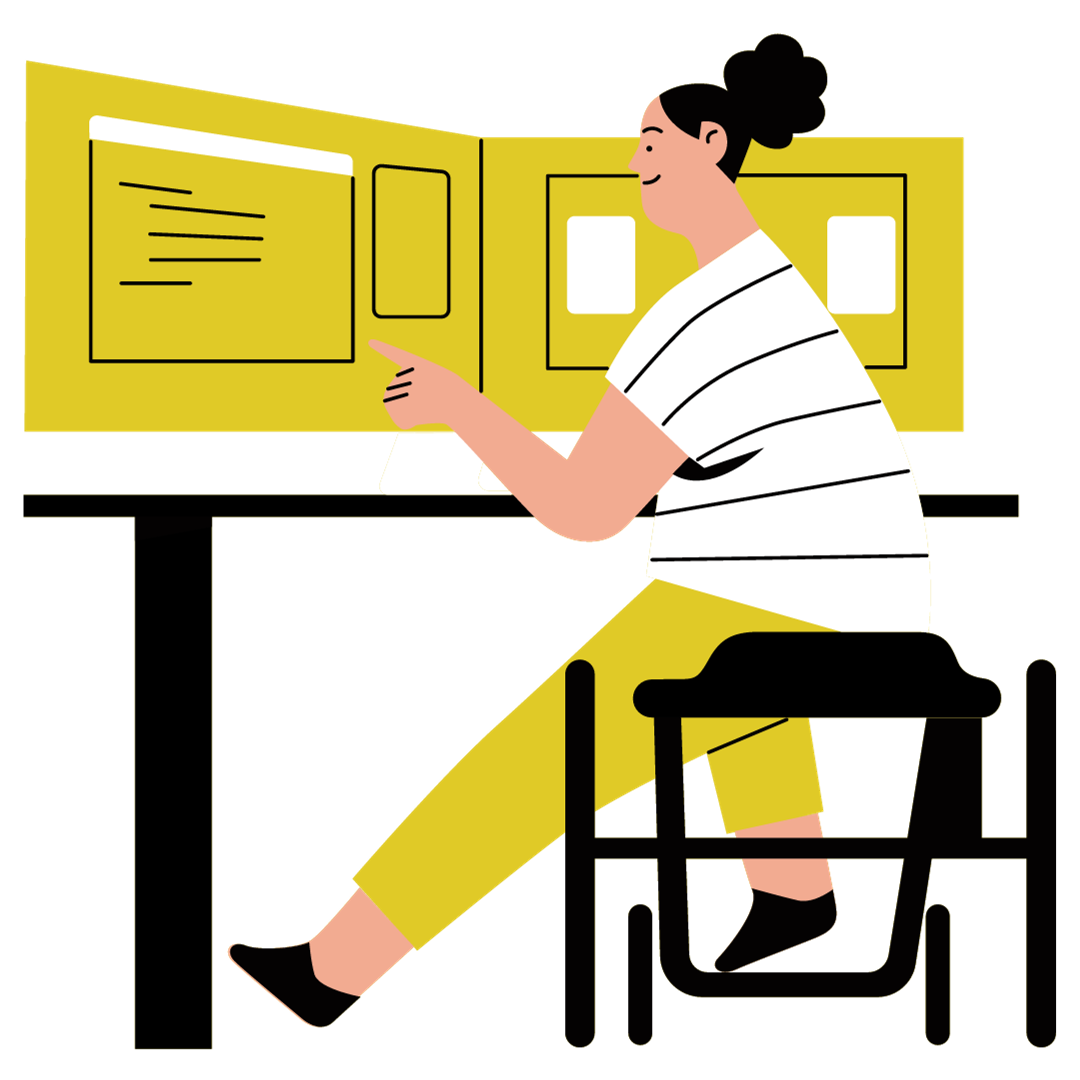 Not sure what to do about data? We can help.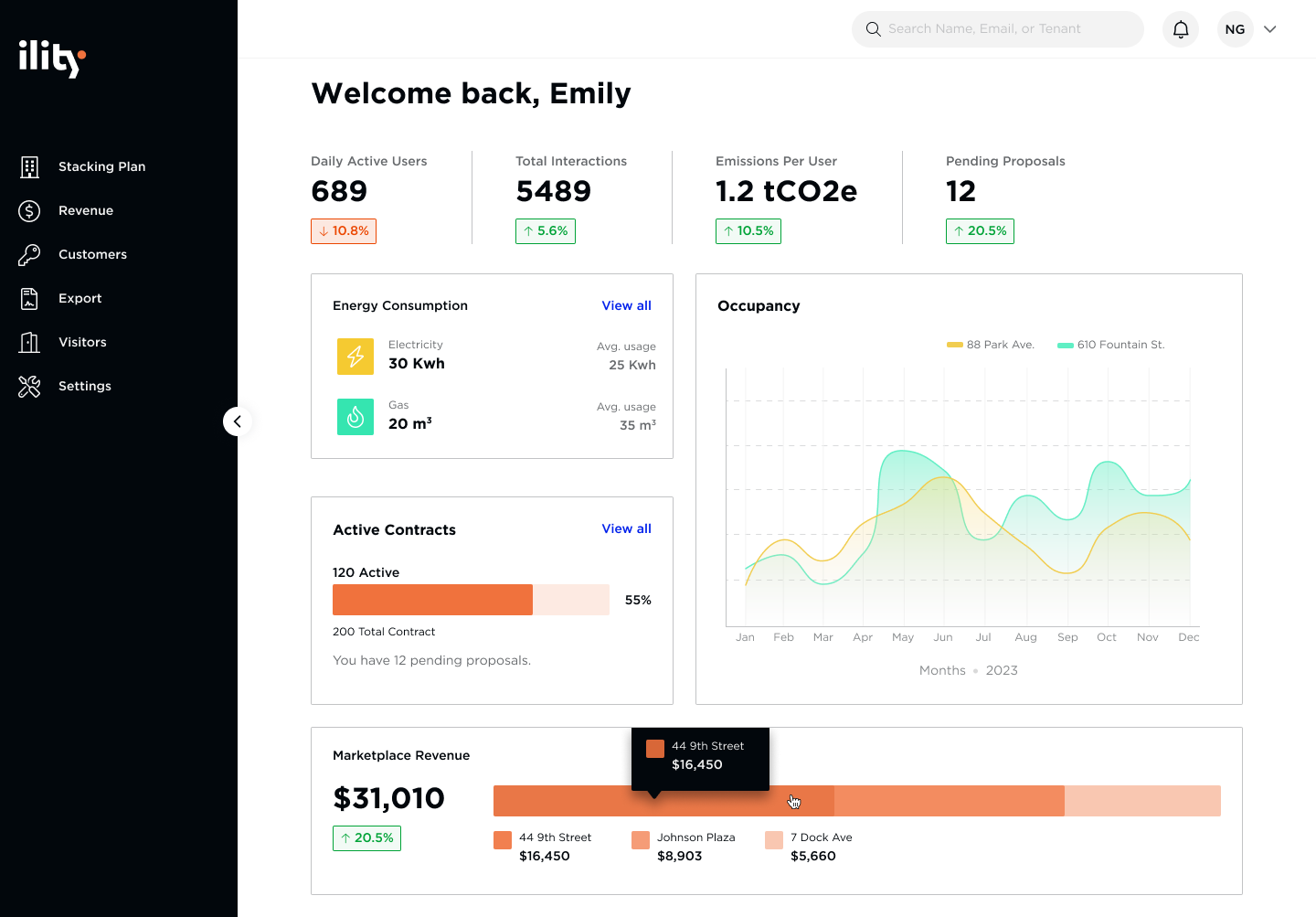 Unify your data
Dive deep into your diverse datasets, from ESG emissions to financial metrics. We consolidate and standardize your data-- this is the foundation for your data-driven strategy.
Define access & permissions
Tailor who sees what across your entire portfolio. With precise role definitions and permissions, ensure the right data reaches the right people, empowering informed decisions and accountability at every level.
Measure success
Craft a platform uniquely tailored to your buildings, customers, and team. Define your KPIs, build intuitive dashboards, and ensure your day-to-day operations reflect your visionary portfolio strategy.
We can get you the outcomes you want-- fast.
Data-Driven ESG Strategy
Transform your efforts from isolated actions to a comprehensive, portfolio-wide ESG strategy.
ility equips the right people with the right levers to drive your ESG objectives forward, aligning with your broader business goals. Engage your stakeholders, attract sustainability-conscious tenants and investors, and stand out in the market. Don't just stop at capturing energy consumption data -- lead the charge towards a more sustainable, profitable, and resilient future for your business.
All-in-one Customer Superapp
Today's tenants seek more than just a space - they crave experiences tailored to their needs and lifestyles.
Imagine creating an app your customers can use to seamlessly find parking nearby, book a conference room for a critical meeting, buy a healthy lunch, and drop in for a yoga class. These aren't hypothetical workflows; they're experiences we can help you fine-tune and manage uniformly across your whole portfolio. When you automate your process and break free from the constraints of disparate systems, you can design services and products that serve your customers at scale.
Put your data to work with ility
ility has been transformative for the way we engage with our occupiers on a B2B level at scale. Their flexible approach has enabled us to dynamically integrate a number of different data sets to provide an integrated view of working with L&G for our occupiers.
Occupier relationships are a necessity for our investors as we differentiate our offer as a property owner and deliver ambitious Net Zero Carbon ambitions over the coming years.
Mark Tyson
Head of Property Operations, LGIM Real Assets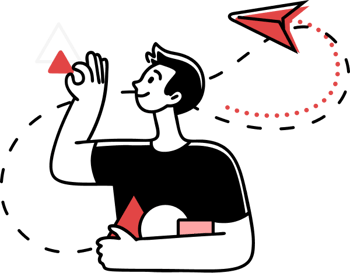 Request a Demo
What are the biggest data challenges you're facing in your portfolio today? Schedule a call and we'll see if we can help.
Take the first step today towards changing the way you manage your portfolio.
We are a strategic partner and technology provider to landlords managing multi-property portfolios. We specialize in handling the complex scenarios that come with numerous data sources, various stakeholders, and the desire to stay competitive and market-leading. Our team brings a wealth of industry expertise in real estate, data, technology, and proptech, making us uniquely positioned to understand and solve your most challenging problems. We help you clean and organize your data, and create a platform that is customized to address your specific business needs. Rather than offering a one-size-fits-all solution, we align our technology and consulting services with your strategic objectives to drive impactful results.
How does ility integrate with our existing systems and workflows?
We are system-agnostic and can work with/around any system you already have. We'll share our recommendations on the industry best, but we're happy to work with Excel sheets too. Our platform and APIs are designed for seamless integration with various systems and workflows. We've worked with Deepki, Evora, Stripe, Plaid, Yardi, MRI, HID, SwiftConnect, and many more, and we'll work closely with you to understand your current setup and ensure smooth integration.
We're already using a lot of different systems. Why do we need yours as well?
When thinking about your biggest challenges, it's crucial to evaluate whether your current technologies are truly capable of addressing them. ility isn't just another system to add to your list - it's a strategic tool designed to help you make meaningful improvements to profitability, sustainability, and customer satisfaction. We don't just offer software; we provide a combination of advanced, customizable technology and expert consulting to set you on the right path towards impactful solutions, rather than short-term, band-aid fixes.
How long does it take to implement ility?
The timeline can vary depending on the size and complexity of your property portfolio. With that said, we've found it most effective to start with a targeted 3-month pilot project focusing on a specific use case where we can deliver tangible value. This approach allows you to gain meaningful insights quickly and assess our working relationship in a low-risk, short-term engagement. It's our way of ensuring you see the benefits right from the start. If you don't know where to start, don't worry - we can help.
How do you ensure the security and privacy of our data?
Data hygiene is no small matter to us. We take every precaution to ensure the utmost protection of your personally identifiable information (PII), leasing data, and other sensitive data. With rigorous security protocols, including advanced encryption, secure data storage, and stringent access controls, we've built a fortress around your data. We're fully compliant with key data protection regulations such as the General Data Protection Regulation (GDPR) and California Consumer Privacy Act (CCPA). You can trust us to handle your data with the care it deserves because, in a world where data is king, we believe in leaving no stone unturned.
Can your platform assist with sustainability reporting?
Yes. Our platform can streamline your ESG emissions data collection, analysis, and reporting to make your sustainability efforts measurable and efficient. We can help you develop a technology strategy tailored to meet your portfolio-wide sustainability goals. More importantly, we believe that effective communication with your tenants is often the missing puzzle piece to a successful ESG strategy. Building a stronger tenant relationship can amplify your sustainability efforts, and we're here to assist you with it. Book a call with us and let's dig deeper into your sustainability challenges.
I'm a technology provider or consultant. Do you have a partnerships program?
Absolutely! We firmly believe that the best customer experiences are the result of collaborative efforts. Please email us at hello@ility.com to explore potential partnership opportunities.
Can this be white-labeled?
Absolutely. We understand the importance of your customer-facing technology reflecting your brand identity. Our platform is highly customizable, not just in terms of aesthetics, but also in how it integrates into your existing workflows. We work closely with your team to ensure that our solution fits your specific needs and serves as an extension of your brand.
I see multiple areas that could benefit from this, but I'm not sure where to start. Can you help?
Yes, we're here to help with just that! It's common to see multiple opportunities for improvement, and knowing where to start can be overwhelming. Our team will work closely with you to understand your specific needs and priorities and give you a plan on how to begin. Simply book a call to get started.